Why Sell With Us

Looking to Sell Your Home?
Most home sellers have a short list of priorities. Typically, they want to get their home sold for the most money possible on a specific timeline with a process that's streamlined and efficient. In some cases, there will be additional circumstances to consider, like an out-of-town owner or a home that's in need of repair.
Contrary to what some other agents will tell you, selling a home isn't rocket science. There are basically four steps:
Find an agent
Price the home properly
Prepare the home for sale
Market the heck out of it
However, that doesn't mean that you should trust just anyone with your home sale. Even though the steps are the same, the service you'll receive from us makes a significant difference in your home selling experience.
Why List With Us?
As you may have heard, 2021, 2022 and 2023 have been "hot" real estate markets in the Peoria, IL area. Of course, I don't have to tell you that this time period has been marked by unusual market conditions, both here and in cities and neighborhoods across the country.
You may think that a hot market means it's easier to sell and thus it's less important to choose a top-notch agent. In fact, however, you may be leaving significant money on the table when you work with an under-qualified agent. Here's why:
In a hot market, a high percentage of homes are selling. However, top agents can help field multiple offers through superior marketing and a more robust professional network.
Multiple offers mean more opportunities to negotiate and maximize the market's potential.
You need a negotiating expert by your side to get top dollar for your home and to negotiate the best possible terms.
In this hot market, we have sold a high percentage of our homes for full price or above (and sometimes way over full price!) Through it all, we have provided top-tier service and unparalleled market insight while helping our sellers take advantage of this market's unprecedented upside potential.
Get to Know Rodgers Real Estate Group
Over the past 22 years, the Rodgers Real Estate Group of RE/MAX Traders Unlimited has created and refined a home selling system that has been responsible for selling thousands of our clients' homes. In fact, the service we provide is so unique, we are ranked among the top 1% of real estate professionals in the world.
The award-winning service we're famous for is the result of more than two decades of experience and a deep bench of real estate professionals specializing in both buyer and seller transactions. Working with a team like ours ensures that you can always find someone who can answer your questions and offer top-tier assistance. It also means that if you're selling your home then buying, we can help you navigate both sides of the transaction.
The Rodgers Real Estate Group is a team of professionals that specialize in the different aspects of the home buying and selling processes. They operate based on their strengths and work together to provide the best possible outcome, offering the highest level of real estate experience in the industry for both buyers and sellers.
Our Listing Agents work only with sellers and attend all of our listing appointments. These agents will give you tips to get your home ready to sell, recommend a listing price, be your main contact throughout the home selling process until we receive an offer on your home, and will negotiate on your behalf to get you the best possible price and terms for your home.
Our Buyer Agents follow up quickly and consistently on inquiries regarding your home. Because we have multiple Buyer Agents, we will always have someone available to show your home when a buyer wants to see it. If you're looking to buy a home after the sale, our Buyer Agents will also be your advocate and advisor during the home-buying process.
Our in-house photographer has a knack for making our listings show their best. Combining art and science with specialized knowledge of real estate photography and up-to-the-minute editing and post-production expertise, you'll love the way your home looks online.
Our licensed Closing Coordinator facilitates all activities from the date an offer is accepted until closing. She works diligently with lenders, appraisers, inspectors, other agents, and most importantly, our clients, making sure each transaction progresses smoothly and seamlessly.
Our administrative assistant performs many of the day-to-day behind-the-scenes support activities that are so essential to a real estate transaction. This frees our agents up to focus on getting your home sold.
Powerful Differentiators that Make Us the Right Choice for Your Peoria IL Home Sale
What makes working with us different from working with other Peoria area real estate agents?

Planning
We provide a comprehensive plan for your home selling experience, with guidance and assistance from start to finish. We'll sit down with you and determine what your goals are for your home sale, then we'll respond with a plan that exceeds your expectations.
Some sellers want to sell for top dollar to get the most out of their home's equity potential. If that's you, we will give you tips and recommendations on what to do -- and more importantly, what not to do -- before putting your home on the market.
If you really want to make your home show at its best, we'll even bring in our stager and share tips on how to make your home irresistible to buyers in your area. We'll also help you identify value-added improvements that pay off at the closing table.
Learn more about how to Prepare Your Home to Sell.
Other sellers don't want to do anything to the home before selling it. They're more interested in pricing it aggressively and moving it quickly, without spending money on updates, upgrades, or deferred maintenance items. In this case, we'll help you position your home and price it right for its condition.
Pricing
When we price homes, we do our homework. Too many times, agents take the lead from sellers, identifying a price that the homeowner wants to hear instead of dealing with the facts. When you don't properly price your home from the start, you may end up losing thousands or even tens of thousands of dollars -- or even prevent your home from selling at all.
We start by taking an x-ray of the market, looking at all active, pending, sold, expired and withdrawn listings. We will also look at the market absorption rate to determine if it is a buyer, seller, or balanced market. Then we'll price according to the market conditions and comparable property values we've identified. It's as simple -- and as complex -- as that.
Learn more about how to Properly Price Your Home to Sell.
Flexibility
When you list your home with a real estate agent, you are typically stuck in a four to six-month contract that you cannot get out of -- even if the agent is not performing. We are so confident in our service that we give you the ability to cancel your contract with us anytime you want with no cancellation fees or penalties.
We don't just list a property and wait for another agent to sell it. We work hard on your behalf to sell your home because we know we can get fired at any time.
Even after you hire us to sell your home, we give you the opportunity to sell By Owner. If you find the buyer before we do, you can cancel the contract and proceed on your own. If you want us involved, we'll handle the transaction for 2% of the purchase price.
Marketing
How to Sell Your Peoria Area HomeIn today's information age, the first showing happens online… not in person. That is why it is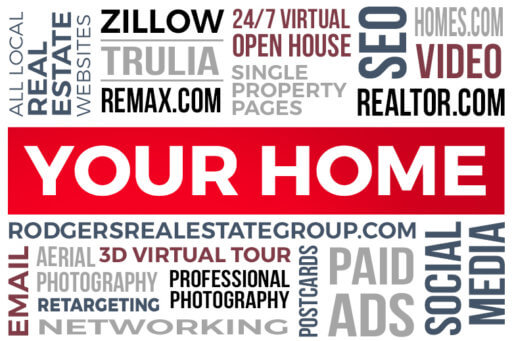 absolutely critical that your home show its best online. The homes we list are marketed through single property pages, social media, and advertising on every major portal that displays homes for sale.
Homes today get a lot more exposure than they did 20 years ago because of the power of the major real estate portals. At the same time, there are fewer in-person showings because many buyers eliminate homes based on how they show online. The good news is that once we get them through the door, buyers are more likely to connect with your home since they've already shortlisted it through an online search.
Our 24/7 virtual open houses are almost as good as physically being in the home. They add value in a variety of ways, including the following:
Virtual tours allow buyers to look back and revisit forgotten details after an in-person home showing. In essence, buyers can go through your home as many times as they like without inconveniencing you and your family.
Since your home looks its best during the recording of the virtual open house, buyers are able to revisit it without the hassle of constant home cleaning and staging.
We have sold many homes to out-of-town buyers who never saw the home in person before purchasing.
Many agents "kind of" market your home, taking a haphazard approach that's ultimately ineffective. You don't "kind of" want to sell your home, right? When you list with us, you can rest assured that your home will be presented in the best possible light to potential buyers so it has the greatest possible chance of selling.
Communications
We know that one of the most frustrating things home sellers experience is a lack of communication from their listing agent. That's why we provide consistent, predictable communication throughout the home selling process. In fact, we provide our home sellers with communication guarantees so that you never have to chase us down to ask a question. These include:
We return calls within 24 hours. If we fail to do this, we'll provide a substantial commission discount.
We communicate with you at least once every seven days. If we fail to do this, we'll also provide a substantial commission discount.
We will notify you by text, phone call, or email to get your permission before anyone looks at your home.
We will provide feedback after showings and continually monitor market activity to keep you abreast of any changes in your market.
We will provide secure, state-of-the-art technology to facilitate electronic signatures and transaction coordination. This is essential for out-of-town clients or sellers who are traveling during the transaction. Because of this technology, you do not need to be in town to list a home nor do you need to attend the closing. We have sold many homes without meeting the sellers in person.
Selling a home can be stressful but, with the Rodgers Real Estate Group on your side, all of the details will be handled. That means all you need to worry about is getting enough sturdy boxes to pack your belongings.
We will take care of everything from start to finish. After all, it's what we do best!