How To Price Your Home
When selling your home, knowing how to price your home is the most important decision you will make. This process will help you set the proper asking price so you sell your home for the greatest amount of money, in the least amount of time.
The 3-Step Process to Properly Price Your Home
Step 1: Gather Information
The first step to take when you price your home is to gather a lot of information. You must know the following about your home and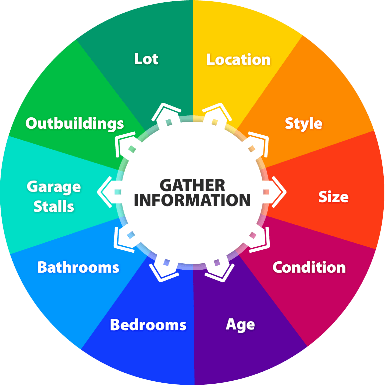 the homes you are comparing your home to:
Location (subdivision, town, school districts, etc.)
Style of home
Total above grade square footage. This is determined by measuring the exterior of your home.
How much lower level or basement square footage is finished vs unfinished
Condition of the home
Age of home
Number of above grade bedrooms and below grade bedrooms
Number of bathrooms
Number of garage stalls
Any additional structures such as outbuildings, detached garages, pool rooms, etc.
Lot size and characteristics (on water, golf course, wooded, cul-de-sac, size, etc.)
Criteria that determine value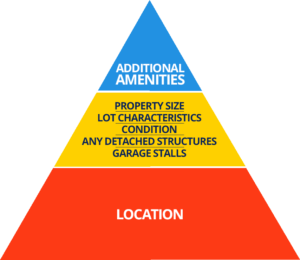 Location accounts for the largest portion of your home's value. The next largest portion is a combination of the following: size of your home, lot characteristics, condition, any detached structures and number of garage stalls. There are additional factors such as amenities, number of bedrooms and bathrooms, and the level that the bedrooms and bathrooms are on. While finished basements can add value, the amount of value is much less than above-grade square footage.
Step 2: Compare Your Home to Other Similar Homes
Once you have all that information, you're now ready to compare your home to other homes. The comparable sales method is the most commonly used way to determine values of residential real estate. A different approach would be used for multiple family properties.
You must be objective when comparing your home to others. To you, your home is filled with emotions and memories, but to a buyer, it's a structure to be analyzed objectively. It's important for you to be objective when comparing it to other similar homes.
Compare your home to those of the same style, if possible. For example, if you own a ranch, you want to compare your home to other ranches. Sometimes that may not be possible, if there are not enough good comparables. The goal is to find homes as similar to yours as possible.
When trying to determine the price of your home, compare your home to active, pending, sold, expired and withdrawn listings within the past 6 to 12 months to see how it compares. Ideally, you will compare homes in or close to your subdivision. If not enough data is available, you can expand your search to include more homes, such as all homes in a certain school district or zip code. However the closer to your home, the better.
Homes for sale: Size up your competition!

Active listings are homes currently for sale. Don't put a lot of emphasis on these homes because we have no idea if they are going to sell or not. Keep in mind that approximately 35% of homes listed locally do not sell the first time they are on the market. If they do sell, we have no idea how much they're going to sell for. These listings matter only to the extent that they are your competition for buyers. They are not indicative of market value because sellers can ask whatever they want for their home … even if the price is unrealistic. The asking prices do not reflect market value until they sell.

"Pendings" are homes that were formerly active listings that recently went under contract. They have not yet closed, so we don't know what they will actually sell for unless the listing agent is willing to share this information—but most are not. You will at least know what the asking price was.
Homes that have sold: The reality of the market
Homes that came off the market without selling are known as "expireds" and "withdrawns"
Sold real estate sign
Sold properties within the last 6 to 12 months represent the reality of the market and are most important for determining the market value of your home.
An expired listing is a property that was on the market for the complete duration of the listing contract and did not sell. A withdrawn listing is a home that was on the market and for whatever reason was taken off the market before selling. Look for patterns as to why these homes did not sell and the common factors they share.
Step 3: Study Supply and Demand to Identify Market Absorption Rates
It is also very important to take the pulse of the current real estate market conditions and trends. Market absorption rate is the number of months it would take to sell the currently listed homes on the market and is one of the biggest factors in pricing your home. It is expressed in months of inventory, which is calculated by dividing the average number of sales per month by the total number of available homes. The figure shows how many months it will take to exhaust the supply of homes on the market. For example, if there are 100 homes on the market and 10 sell per month, there is a 10-month supply of homes on the market. Don't be concerned with the absorption rate for the entire market, you only care about it in your price range and location.
Seller's Market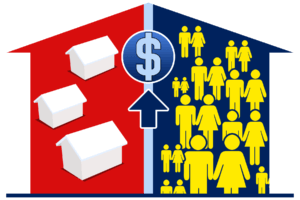 If there's a one, two or three-month supply of homes on the market that you're competing in, you may want to overprice your home a little bit, because the demand exceeds the inventory. This means it's a seller's market.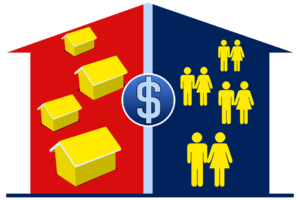 Balanced Market

If there is a four- or five-month supply of homes on the market, you will need to price at market value to get your home sold.
Buyer's Market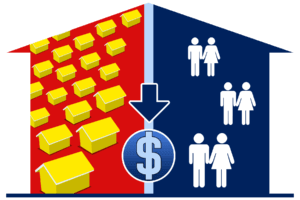 If there's a six-month supply or more on the market, we consider that a buyer's market. If we're in a buyer's market, you may want to price slightly less than market value.
Important note on the Peoria area real estate market:
Real estate is very different from one town to another, and between price ranges, so there is no way to say that the Peoria area is a seller's market, balanced market or a buyer's market. Some areas and price ranges may be a buyer's market while other areas and price ranges are a seller's market.
Price per square foot
It is important to know the above grade price per square foot that homes are selling for. If homes in your neighborhood are all selling between $115 - $125 per square foot, no home is likely to sell for $150 per square foot regardless of how nice it is. There is a ceiling to every neighborhood.
When pricing a home, finished basement square footage is worth considerably less than above-grade square footage. Finished basement square footage is typically valued at no more than 30% of what the above-grade square footage is. For example, if you are asking $120 per square foot for above-grade square footage, the basement with similar finishes would only add approximately $30 - $40 per square foot.
Getting Market Data
To price your home properly in the market, you need all the data described above. This data needs to be current, accurate and local. Your best source for this information is a real estate agent or an appraiser. The internet provides access to huge amounts of information from a variety of sources, but, unfortunately, a lot of this information is inaccurate, misleading or outdated.
Be sure to check out the most frequently asked questions about pricing homes and the 11 traps to avoid when pricing your home.