Washington Illinois Real Estate Market May 2023
Posted by Scott Rodgers on Tuesday, June 13, 2023 at 11:46:22 AM
By Scott Rodgers / June 13, 2023
Comment
Number of New Listings in Washington May 2023
This year, the number of new listings has dropped to 112 over 171 the previous May. The low inventory is driving prices higher but more than that, it's creating a unique supply and demand chain for buyers.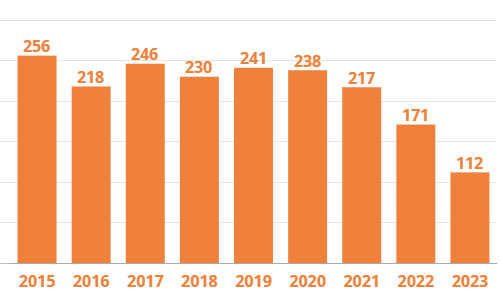 Sold Properties in Washington
The number of sold properties this month is equal to the number of listings that actually hit the market. Sold properties, as with all properties are down slightly from last year but has dropped dramatically from May 2021 which is interesting because one would think we would have seen that number in 2020 but the number was quite high in 2021 but dropped much lower this year.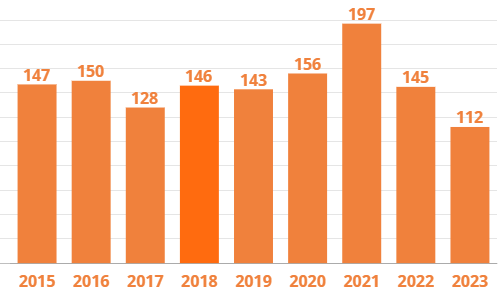 Average Sold Price in Washington May 2023
The average sold price in Washington is the highest it's been ever, which doesn't really compare to neighboring Peoria, which shows about the same price. Home prices have been increasing over the past few years but the last two that price jumped over $30,000.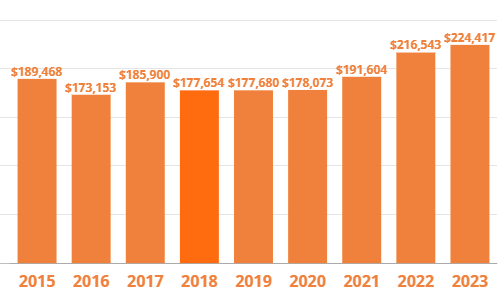 Washington's Median Sales Price in May 2023
The Median sales price, not list price, dropped slightly from last year but still up quite a bit from two years ago. The sold price for Washington was $194,490, $3,300 less than last year. This may be a generalization but the last two years are roughly the same compared to the previous 5 years.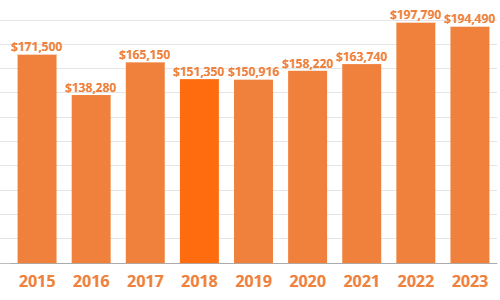 Average Days on the Market for Washington
Days on the market or DOM, has taken a major hit in the last two years and come up slightly this year but nothing like it was 3 years ago and prior. We are seeing homes go within days and some within hours of listing if they are priced right; great news for sellers but buyers are scrambling to find and land homes in Washington.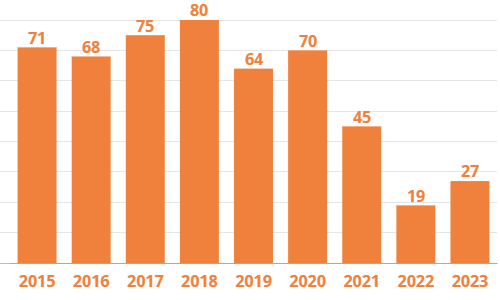 Median DOM for Washington Homes
We see similar things reflected in the median DOM for homes sold in Washington in 2023. The median days on the market for homes sold in Washington in 2023 was 7, and in 2022 it was 9. Quite a dramatic difference from 2018 where the median DOM was at 57!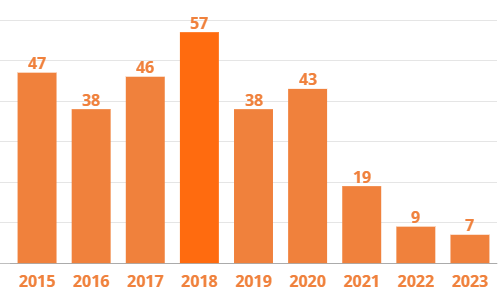 Average Number of Properties for Sale in Washington in May 2023
These numbers all reflect in the actual properties for sale, which is on par from the last 2 years. This number is way down from 2020 but we had already seen a decline in listings but not quite to this extreme. Property listings are still way down in Washington IL for May 2023 and we probably won't see that number increase over the next couple of months. What does this mean? It's a great time to sell.
Supply vs. Demand - Washington Absorption Rate
As in previous years, we have an extremely low inventory and in less than one month all listings could be gone. Great for sellers but buyers may just not have the inventory they want. Neighboring communities and towns are seeing similar listings but a balanced market at 6 months is still a long way off.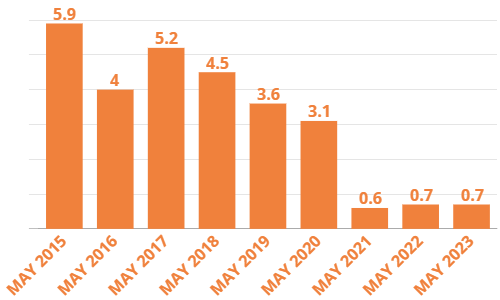 When there is anything less than 3 months' inventory available, we consider this to be a seller's market. If there is more than 6 months' inventory, that is a buyer's market, and anything in between is considered balanced. In Washington in May 2023, and throughout the year, it was undeniably a seller's market.
This means sellers remain in a strong position to benefit from ideal market conditions. If you are considering selling your home in Washington, contact us any time to learn what your home may be worth or how to prepare for a successful home sale.
View Sold Properties in Washington over the last 6 months
Contact Your Washington Realtor